Visit to DSF's Triyuginarayan Livelihood Centre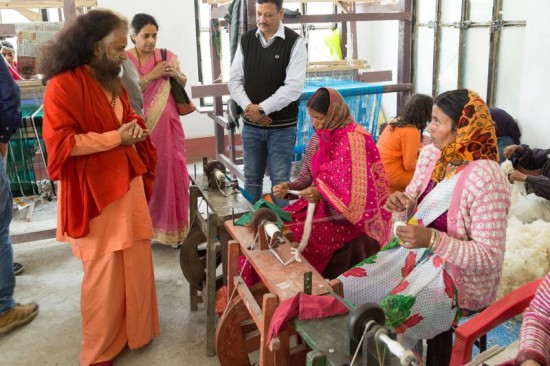 A visit to the newly constructed livelihoods centre was the next stop in Pujya Swamiji's yatra to Kedarnath where He met and spent time with the beneficiaries. Several of the women, who had lost their husbands in the floods, were so glad to get a sense of purpose and meaning in their lives- as Pujya Swamiji said, that along with weaving sweaters, shawls and many other garments they were also weaving their lives with hope and healing. Plans for a grand inauguration of the centre as well as a resilient and strong buy-back network were also discussed in detail.
Divine Shakti Foundation has joined together with Mandakini Women Weavers of Garhwal in partnership with the Government of Uttarakhand, and Panchachuli Women Weavers of Kumaon, Jagdish Stores, Organic India to engage and reach out to hundreds of women, unemployed youth and their families in the Kedarnath Valley. The Triyuginarayan Centre is located 25 kms from Kedarnath, the sacred site which was most devastated by the Uttarakhand floods in 2013.