Inauguration of Divine Shakti Foundation's New Brightland School
May 31, 2015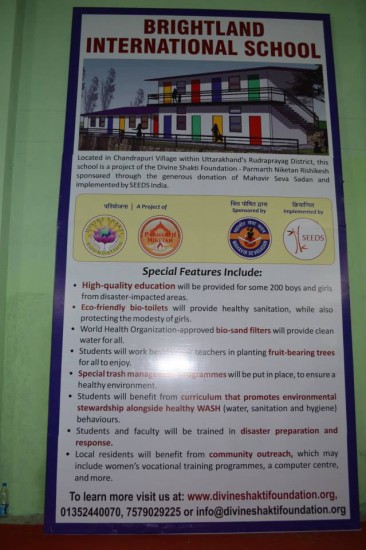 Brightland International School, which was completely destroyed in the floods of 2013, has been rebuilt by Divine Shakti Foundation and Parmarth Niketan, Rishikesh, led, guided, blessed and inspired by Pujya Swami Chidanand Saraswatiji.
The new, eco-friendly campus was inaugurated on the 31st May by Hon'ble Chief Minister of Uttarakhand, Shri Harish Rawatji, Hon'ble Minister of Drinking Water and Education, Uttarakhand, Shri Mantri Prasad Naithaniji, Hon'ble Minister of Agriculture, Uttarakhand, Shri Harak Singh Rawatji with Pujya Swamiji and other dignitaries and guests. The newly-rebuilt school will serve hundreds of children within its beautiful campus.
Among the unique features of the school are eco-friendly bio-toilets and WHO-approved bio-sand filters for clean water.
This project in addition to basic academic education, will also provide:

– Bio-Toilet Sanitation Facilities: to provide adequate sanitation with an eco-friendly technology that can help preserve and protect our environment

– WASH Education and Awareness Programmes: highlighting the importance of maintaining and improving clean water, sanitation and hygiene facilities not only in schools but in all communities throughout the Himalayan state as well as throughout India.
– Disaster Management Training: proper disaster management training and drills with students and teachers will be carried out to ensure students and teachers are prepared in time of emergency.
– Green Education Programmes and Activities such as regular tree plantation drives during the monsoons, adequate solid waste management, trash segregation and recycling and awareness campaigns
– Livelihoods skills training programmes utilizing the school space in the afternoon, after the school day, so that women of the local communities are empowered
– Encouraging renewable energy utilization by exploring and providing solar panel and other feasible green technologies to sustain daily energy needs
– Promoting Yoga and Holistic Well-being in all schools as well as ensuring that a majority of the food available to the children is fresh and organic
Additionally, there was the presentation of the Water, Sanitation and Hygiene (WASH) programmes, including fruit tree plantations, being implemented by Divine Shakti Foundation, the Global Interfaith WASH Alliance and Ganga Action Parivar in 11 other schools of the Rudra Prayag region.
Pujya Swami Chidanand Saraswatiji, President of Parmarth Niketan (Rishikesh), Founder of Divine Shakti Foundation and Ganga Action Parivar and Co-Founder/Chairman of the Global Interfaith WASH Alliance, shared beautiful words of inspiration for the community. He said, "In order to have real progress in Uttarakhand, we need education. Education brings innovation. The youth and the women Shakti are innovative and they only need the opportunity. They can play an amazing role in Uttarakhand to change the entire picture of this Divine State. That is why the inauguration of this school is such a great and auspicious event! Let us all work together for the true, green upliftment of our sacred and beautiful Himalayan state."
Shri Harish Rawatji, the Hon'ble Chief Minister of Uttarakhand said, "I congratulate Pujya Swamiji on the inauguration of the Brightland International School. I also urge Pujya Swamiji to help us rebuild Uttarakhand on a large-scale, providing safer housing for thousands who are still without homes and create livelihoods by strengthening our spiritual-cultural tourism as well as agriculture."
Hon'ble Minister of Education and Drinking Water, Shri Mantri Prasad Naithaniji, personally visited the actual campus and commended and supported the efforts. He was enthusiastic to work with Divine Shakti Foundation and Global Interfaith WASH Alliance to implement WASH education and awareness in all schools.
Hon'ble Harak Singh Rawatji said,"Pujya Swamiji has always been there for us in times of great need. Today He is taking yet another step to help us by inspiring the rebuilding of so many schools in the Rudraprayag area."
Sadhvi Bhagawati Saraswati, President of Divine Shakti Foundation and Secretary-General of the Global Interfaith WASH Alliance, said, "It is such a great joy for Divine Shakti Foundation to open this school. By providing excellent education as well as the Water, Sanitation and Hygiene programs to the youth from this sacred land and the flood affected areas, not only is the name of the school Brightland, but their entire future and the future of their families and communities will be Bright. When their future is bright, they share the light and then the future of the entire state becomes bright."
Also present at the occasion were Shri Dinesh Shahra, Managing Director of Ruchi Soya, Shri Bharat Mitra, Founder-President of Organic India, Kiran Bali, Global Chair of United Religions Initiative, delegates from all around the world, including countries such as USA, Australia, Austria, Canada, Israel, England, as well as Rishikumars of Parmarth Gurukul and many others.
Divine Shakti Foundation's project of building the Brightland School was generously supported by Mahavir Seva Sadan, Kolkatta and was implemented locally by SEEDS, India, led by Shri Manu Gupta, Director of SEEDS and his team. Divine Shakti Foundation's sister organizations Global Interfaith WASH Alliance and Ganga Action Parivar will work hand in hand to implement and sustain the green programmes and activities mentioned above.